You are looking for a product, a brand, a reference :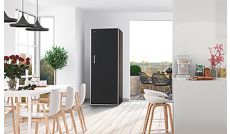 Wine Ageing Cabinets
Our Single Temperature Wine Cabinets are specially designed for the process of Ageing and Preserving Wines in optimal conditions. They offer a homogeny temperature between 10°C and 14°C, a constant hygrometry between 50% and 80% and odorless air circulation. Also, they're vibration free, and protected from light exposure. Please note that all types of wine age and are preserved at the same temperature.
Sort by : Products per page
Your wine storage solution
in under a minute
Need advice?
Our experts are here to help you