You are looking for a product, a brand, a reference :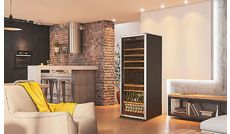 Multi-Purpose Wine Cabinets
The Multi-Purpose Wine Cabinets are made for wine lovers who wish to age and store their wines (red, white, rosé or sparkling) at the same time, while also getting them ready to serve at the appropriate temperature. Select a Multi-Purpose Cabinet with 2,3 or 4 Temperatures, or a Multi Temperature Cabinet according to your needs. This is a MUST HAVE for wine experts and amateurs alike!
Sort by : Products per page
Your wine storage solution
in under a minute
Need advice?
Our experts are here to help you