You are looking for a product, a brand, a reference :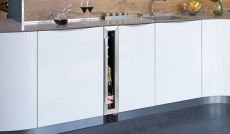 Built-in Wine Cabinets
The biggest range of Flush-fitting and Built-in Wine Cabinets and Coolers:
Multi-purpose, in a range of sizes, colours and with the option of a solid or glass panelled door.
These Wine Cabinets have been specially designed and built to standard dimensions for mounting on top of one another, or to fit beneath a work-surface or counter in the kitchen or living area. Easily assembled by yourself, a kitchen designer or construction specialist.
Sort by Products per page
Built-in Wine Cabinets
6 result(s)
Sort by : Products per page
Your wine storage solution
in under a minute
Need advice?
Our experts are here to help you